DINO CIANI
When a car accident on a Roman road in 1974 took the life of Dino Ciani, we lost a pianist who had already fulfilled his teacher Cortot's description of him as "an example of a youth possessing the rarest gifts bestowed by nature, able to perceive the real balance of creative invention in a variety of manifestations."
Following his success at the 1961 Liszt-Bartok competition in Budapest, Dino played under the batons of Abbado, Muti and Giulini among others.
His recordings and live performances, reveal elegance, creativity and imagination. Dino frequently played with orchestras and the conductors had the highest regards for his partnership. It is regrettable that only a few of his live concerto recordings have been available. The present offering goes towards filling this gap.
Vol. 1DHR-7849
BEETHOVEN:
Piano concerto No. 1 in C major, Op. 15
Orchestra sinfonica della RAI di Torino, Bruno Bartoletti conductor
Live performance,Torino, 1973.
Piano concerto No. 3 in C minor, Op. 37
Orchestra sinfonica della RAI di Torino, Vittorio Gui conductor
Live performance, Torino, 1970.
Bruno Bartoletti
Vittorio Gui
---
Vol. 2 (3CDs)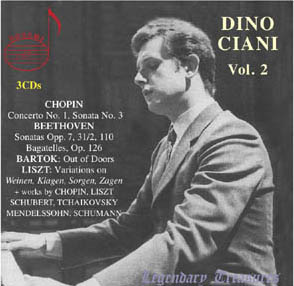 DHR-8044-6
CHOPIN: Piano Concerto No. 1 in E minor, Op. 11
Orchestre Philharmonique de l'ORTF, Aldo Ceccato conductor
Live performance, Salle Pleyel, Paris, November 26, 1971
CHOPIN: Nocturne, Op. 27/1; TCHAIKOVSKY: Nocturne, Op. 19/4
MENDELSSOHN: Song without words, Op. 67/4
Recorded 1965
CHOPIN: Sonata No. 3 in B minor, Op. 58
Live performance, 1973
BEETHOVEN: 6 Bagatelles, Op. 126
BARTOK: Szabadban (Out of Doors), Sz. 81
Live performance, Florence, February 14, 1970
LISZT: Variations on Weinen, Klagen, Sorgen, Zagen, S. 180
Live performance, Budapest (Liszt - Bartok Competition), October 1961
SCHUMANN: Vogel als Prophet, Op. 82/7; Warum?, Op. 12/3
SCHUBERT: Impromptus, Op. 90 Nos. 2 & 3
LISZT: Liebestraum No. 3; Chasse-Neige; Etude No. 3 La Campanella
Recorded 1965
BEETHOVEN: Sonata No. 17 in D minor, Op. 31/2 The Tempest
Sonata No. 31 in Ab major, Op. 110
Sonata No. 4 in Eb major, Op. 7
Sonata No. 10 in G major, Op. 14/2: Mvt 3: Scherzo
Live performance, Verona, November 14, 1973