JULIAN VON KAROLYI
Vol. 1DHR-7984
TCHAIKOVSKY: Piano Concerto No. 1 in Bb minor, Op. 23
The Bavarian Radio Orchestra, Gika Zdravkovitch - conductor
SCHUMANN: Piano Concerto in A minor, Op. 54
The Bavarian Radio Orchestra. Robert Heger - conductor
Recorded c. 1956
LISZT: Hungarian Fantasy for Piano and Orchestra
The Munich Philharmonic Orchestra, Edmund Nick - conductor
Recorded c. 1948
Hungarian - German pianist Julian von Karolyi (1914 -1993) studied with Erno von Dohnanyi and Alfred Cortot. He excelled in the romantic repertoire, possessed a prodigious virtuoso technique and was especially known for his interpretations of Chopin and Liszt. He achieved an extraordinary degree of popularity and prestige as both soloist with orchestras and as a recitalist, making many tours across continental Europe as well as appearances in New York and in London. He has recorded extensively for both Deutsche Grammophon and EMI-Electrola.
Gika Zivojin Zdravkovitch (1914-2001) was born in Belgrade and studied in Prague with Vaclav Talich. He became the resident conductor of the Belgrade Philharmonic Orchestra in 1951 and in 1960 its artististic director. He was also a professor of conducting at the Belgrade Academy.
Strasbourg born, Robert Heger (1886-1978) has successfuly established, from a young age, a reputation as both a conductor and a composer. He held several important conducting posts including at the Munich Opera and the Berlin State Opera. Heger made numerous recordings of operas, symphonies and concertos.
Czech conductor and composer Edmund Nick (1891-1974) studied music in Vienna and Dresden and also obtained a doctor of law degree from the University of Graz. His first conducting post was in Breslau in 1924 and he conducted in Berlin from 1933 to 1940. In 1947-48 he was the music director of the Munich State Operetta and in 1952 the conductor of the Cologne Radio Orchestra.

---

Vol. 2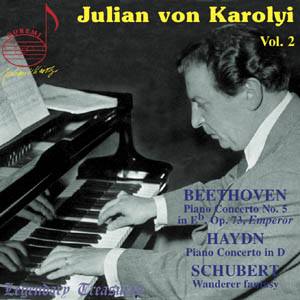 DHR-8009
J. HAYDN: Piano Concerto in D Major, Hob. XIII/11
The Masterplayers Orchestra, Lugano, Richard Schumacher - conductor
Recorded c. 1967
L. v. BEETHOVEN: Piano Concerto No. 5 in Eb Major, Op. 73, Emperor
The Bavarian Radio Orchestra, Robert Heger - conductor
Recorded c. 1958
F. SCHUBERT: Wanderer fantasy
Recorded c. 1958