Catherine Wilson and friends in "Classical Potpourri"
A delightful variety of classical gems
Pianist/Composer Catherine Wilson is one of Canada's most celebrated classical instrumentalists. Her many recordings are featured on RCA Red Seal; RCA Victor; Pro Arte; Fanfare; Pickwick (UK) and DOREMI. In addition to her numerous concerts troughout USA and Canada, Miss Wilson is regularly invited to perform for heads of state visiting Canada, most notably H.M. Queen Elizabeth II.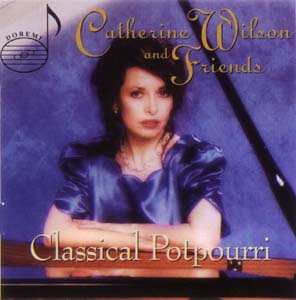 DDR-71111 (In North America DHR-71111)
J.S. Bach: Preludium from Cantata BWV 29 ; F. Chopin: Etude Op. 10 No. 3 in E Major; Berceuse Op. 57 in Db Major; G. Gershwin: Three Preludes; C. Wilson: Knollwood Place; M. De Falla: Ritual Fire Dance from "El Amor Brujo"; M. Ravel: Pavane pour une infante Défunte; C. Chaplin: Charlie Chaplin Medley; L. Anderson: Blue Tango; E. Satie: Les trois Gymnopédies; G. Puccini: "O mio babbino caro" from "Gianni Schicchi"; L.V. Beethoven: "Für Elise"; E. Elgar: Salut d'Amour; S. Joplin: Maple Leaf Rag
Catherine Wilson (Piano); Mark Skazinetsky (Violin); Norman Hathaway (Viola); Jack Mendelsohn (Cello); Joel Quarrington (Double Bass)