BORIS ZARANKIN - Piano
Beethoven works, by leading Russian-Canadian pianist Boris Zarankin
Hailed by the Los Angeles Times for his "flare, style, exciting virtuosity, daredevil speed and limpid tone" and by the Montreal Gazette for his recording of Chopin's Etudes, which demonstrated "a way of playing which amounts to an aesthetic revelation his touch is superb, subtle, elegant. His incredible technique makes light of these daunting pianistic challenges," Russian-Canadian pianist Boris Zarankin was born in Novosibirsk and grew up in Kharkov, Ukraine.
Zarankin studied at the Kharkov State Conservatory with Regina Horowitz and at the Moscow State Conservatory with Evgueny Malinin. He has appeared as a soloist with major orchestras and has given solo recitals in Russia, Ukraine, USA, Canada, Indonesia and Japan. A resident of Toronto, Canada, he is frequently heard on Canadian radio and at major music festivals across North America. He is the director of Off Centre Music Salon, a chamber music series in Toronto. In A recent appearance as a guest soloist with the Toronto Symphony Orchestra (Conducted by Gunter Herbig), Boris Zarankin played both Liszt Piano Concertos in one evening. For his DOREMI recording of the Schubert-Liszt Lieder, the Toronto Star called him "a master of tone
color and an interpreter with a mind of his own."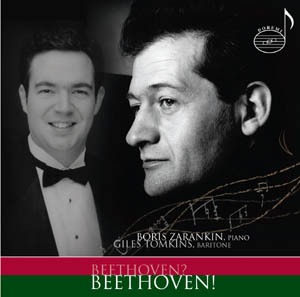 DDR-71151 (In North America DHR-71151)
BEETHOVEN
Piano Sonata no. 32 in C minor, op. 111
Six Bagatelles for Piano, op. 126
Boris Zarankin, piano

An die ferne Geliebte, op. 98
Auf dem Hügel sitz' ich, spähend (On the hill I sit, staring)
Wo die Berge so balu (Where the mountains so blue)
Leichte Segler in den Höhen (Light clouds sailing above)
Es kehret der Maien, es blühet die Au (May comes again, the meadow's in bloom)
Nimm sie hin denn, diese Lieder (Take them hence then, these songs)
Giles Tomkins, baritone; Boris Zarankin, piano
Recorded in 2006.