Along Gypsy Trails - A tribute to LEON ZUCKERT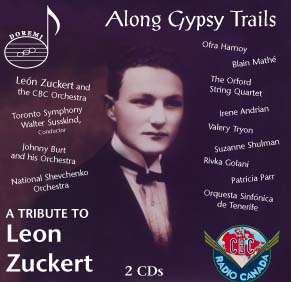 DHR-71123/24 (2CDs)

Composer/Conductor LEON ZUCKERT became well known across Canada and the U.S. in the 1930's and 1940's through his long running weekly broadcasts on the Canadian Radio Commission (now Canadian Broadcasting Corporation - CBC). Programs such as: To the Wild Rose, Along Gypsy Trails, and Seville Fair, in which Leon Zuckert directed the CBC orchestra, were the most popular radio shows in Canada at that time!
In addition to selections from the historic CBC programs - live to air from the CBC Playhouse in Toronto, this two-CDs set contains compositions of Leon Zuckert performed by celebrated soloists, ensembles and Orchestras. Among them: cellist Ofra Harnoy, violist Rivka Golani, The Orford String Quartet, The Toronto Symphony conducted by Walter Susskind, and the CBC orchestra conducted by Leon Zuckert himself.

Issued in cooperation with CBC Radio Music, celebrating its 60th anniversary in 1996, each disk in this two-CDs collection contains over 79 minutes of delightful and engaging musical gems, some of which are among the earliest ever CBC music productions.

A tribute to a fascinating chapter in Canadian Radio, Canadian music history and one of its first exponents.