Orford String Quartet
DHR-6601/2 (2CDs)
MOZART
String Quartet in G major, K.387
String Quartet in D minor, K.421
String Quartet in Bb major K.458
String Quartet in C major K.465
Recorded 1984
Juno Award Winner 1985



---
BRAHMS
Quintet in F minor for Piano & strings Op. 34
Variations & Fuge on a theme by Handel Op. 24
DHR-71129

Gloria Saarinen - Piano
The Orford String Quartet:
Andrew Dawes Violin I; Kenneth Perkins Violin II
Terence Helmer Viola; Denis Brott Cello
Recorded 1988
"This release indeed pleases me in every detail...fine reading...exceptional..."Fanfare Magazine, (USA) Jan/Feb 1999
Selected by The Globe and Mail (Canada) as one of the 10 best classical recordings of 1988


---


Stanley McCartney & Orford String Quartet
DHR-6612
BRAHMS
Quintet for clarinet and strings in B minor, Op. 115
Live performance, July 14, 1969
MOZART
Quintet for clarinet and strings in A major, K. 581
Live performance, 1970
Stanley McCartney (clarinet)
Orford String Quartet:
Andrew Dawes & Kenneth Perkins (Violins)
Terence Helmer (Viola); Marcel Saint-Cyr (Cello)
For more than 50 years the clarinetist Stanley McCartney has delighted and moved audiences with his unique, luminous serene sonority, dazzling virtuosity and musical sensitivity.
He was born in Vancouver on March 15, 1930, and first studied clarinet in Vancouver with Bernard Temoin. He continued his studies in New York in 1953 with Daniel Bonade and later in Cleveland with Robert Marcellus. As the principal clarinet of the Toronto Symphony Orchestra McCartney played under conductors Karel Ancerl, Andrew Davis, Igor Stravinsky, Erich Leinsdorf, Seiji Ozawa, Kurt Sanderling and Zubin Mehta. He was also a guest with the Cleveland Orchestra under George Szell who invited McCartney to perform in the Cleveland orchestra recording of Ravel's Daphnis and Chloé. He was also the principal clarinet of the Canadian Opera from 1985 to 2010.
McCartney was a regular participant at the leading Canadian Stratford chamber music festivals for 10 years and appeared with Glenn Gould, Oscar Shumsky and Leonard Rose. He also performed frequently with renowned ensembles including the Orford, Aeolian, Purcell, Brunswick and St. Lawrence string quartets.
From 1960 to 1978 he was a member of the Toronto Woodwind Quintet.
For many years He taught at the University of Toronto and at the Banff School of Fine Arts.
Described by The New York Times as an "absolutely first-rate group", the legendary Orford String Quartet, a jewel in the history of Canadian classical music, is regarded as "one of Canada's national treasures", and one of the finest international string quartets of all time.
Since its inception in 1965, the Orford String Quartet was noted for its probing interpretations. The Quartet regularly performed in the main concert series of the world's major musical capitals to consistent public and critical acclaim, touring annually in Western and Eastern Europe, the United States, Canada, Latin America and Australia.
The Orford String Quartet adopted its name from the Orford Arts Centre of Jennesses Musicales at Mount Orford in Québec, where the founding members Andrew Dawes, Kenneth Perkins, Terence Helmer and Marcel St-Cyr met in 1965. In 1968, they were named Quartet in Residence at the University of Toronto.
Throughout the world, the Orford's performances were acclaimed for theie perfect, seamless ensemble and passionate intensity in a broad repertoire of over 150 works ranging from the classical to contemporary composers.

---
OFRA HARNOY and FRIENDS
DHR-6609

Antonio Vivaldi: Concerto for Violin and Cello in A major, RV 546
with Igor Oistrakh, Violin, Toronto Chamber Orchestra, Paul Robinson, conductor 
Recorded February 5, 1992 Toronto
Wolfgang Amadeus Mozart: Sonata for Cello and Bassoon in Bb major, K. 292 
with James McKay, Bassoon. Recorded February, 1986 Toronto
Nikolai Rimsky-Korsakov (arr. Leonard Rose): Flight of the Bumblebee
with Michael Dussek, Piano. Live performance, June 13, 1990 Tokyo
Jules Massenet: Élégie with Maureen Forrester, Contralto; Patricia Parr, Piano. Recorded 1984 Toronto
Eugène Bozza: 5 Contrasts for Cello and Oboe
Arthur Honegger: Prelude à 2 Voix (No. 1 from Trois Contrepoints) for Cello and Oboe
with Senia Trubashnik, Oboe. Recorded 1988 Toronto
Pablo Casals: Song of the Birds (Cant dell Ocells) 
with: Orford String Quartet [Andrew Dawes, Kenneth Perkins, Terence Helmer, Denis Brott]
Recorded 1984 Toronto
Jacques Offenbach: Introduction et Valse Mélancolique for Cello and Piano, Op. 14
with John Arpin, Piano. Recorded March 1988 Toronto
Halsey Stevens: 5 Duos for two Cellos  with Vladimir Orloff, Cello. Recorded 1988 Toronto
Franz Danzi: Duet for Flute and Cello, Op. 64 No. 2
with Jeanne Baxtresser, Flute. Recorded 1985 Toronto
Ludwig van Beethoven: Duo for Clarinet and Cello in Bb Major, WoO 27 No. 3 
with James Campbell, Clarinet. Live performance, 1986 Toronto
George Gershwin: Summertime from Porgy and Bess  with Paul Brodie, Saxophone
Recorded February 16, 1986 Toronto
Manuel de Falla (arr. Maurice Gendron): Spanish Dance from La Vida Breve
with Michael Dussek, Piano. Live performance, June 13, 1990 Tokyo 
Franz Xaver Gruber (arr. Doug Riley): Silent Night with Brent Carver
Live performance, 1996 Toronto

---
Along Gypsy Trails - A tribute to LEON ZUCKERT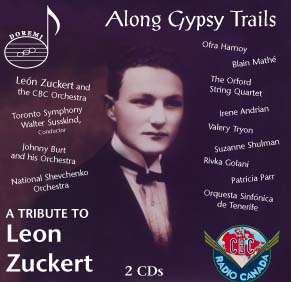 DHR-71123/24 (2CDs)

Composer/Conductor LEON ZUCKERT became well known across Canada and the U.S. in the 1930's and 1940's through his long running weekly broadcasts on the Canadian Radio Commission (now Canadian Broadcasting Corporation - CBC). Programs such as: To the Wild Rose, Along Gypsy Trails, and Seville Fair, in which Leon Zuckert directed the CBC orchestra, were the most popular radio shows in Canada at that time!
In addition to selections from the historic CBC programs - live to air from the CBC Playhouse in Toronto, this two-CDs set contains compositions of Leon Zuckert performed by celebrated soloists, ensembles and Orchestras. Among them: cellist Ofra Harnoy, violist Rivka Golani, The Orford String Quartet, The Toronto Symphony conducted by Walter Susskind, and the CBC orchestra conducted by Leon Zuckert himself.

Issued in cooperation with CBC Radio Music, celebrating its 60th anniversary in 1996, each disk in this two-CDs collection contains over 79 minutes of delightful and engaging musical gems, some of which are among the earliest ever CBC music productions.

A tribute to a fascinating chapter in Canadian Radio, Canadian music history and one of its first exponents.

---